Coating Tank Preservatives
Coating Tank Preservatives
TIANWEI

DALIAN

PROMPT

60MT/MONTH
1. 3Q-301 Coating Tank Preservatives is light green or colorless liquid.
2. Coating tank preservatives is suitable for latex paint, various types of water-based paint, high polymer emulsion.
3. The active ingredients are water-based paints and preservatives in tanks.
4. Paint tank preservatives has high activity range, low cost, low toxicity, easy to operate.
3Q-301 Coating Tank Preservatives
This product is Tianwei Chemical's latest high-performance preservative, suitable for latex paint, various types of water-based paint, high polymer emulsion. It can also be used to inhibit the growth of bacteria and fungi in the production and storage of printing inks and other aqueous organic products. The fungicide has been widely used in large-capacity storage emulsions. Its main ingredients are water-based paints and preservatives in tanks.
A large number of experiments and practical applications have proved that it has excellent antiseptic effect on acrylic acid, polyvinyl acetate, polystyrene butyl ester and other copolymers, and it has excellent compatibility with inorganic compounds in these products.
Preservatives have the following advantages:
1. High activity range, can effectively inhibit bacteria (including Gram-positive, Gram-negative bacteria) mold, yeast, etc.;
2. excellent physical and chemical compatibility;
3. easy to use, low cost;
4. in the recommended use of low toxicity.
Technical index:
| | |
| --- | --- |
| Index | Typical value |
| Appearance | Light green or colorless liquid |
| specific gravity(25℃) | 1.02 |
| Content of active substance % | ≥1.5 |
| Density(20℃) g/cm3 | 1.03 ±0.10 |
| Solubility | soluble in most organic solvents |
| Ph value | 4.0~6.0 |
Instructions:
It can be added directly during grinding or decanting. To ensure that the preservative can be dispersed evenly after addition, the emulsion and water must be thoroughly stirred. According to the different conditions of different products, the amount of fungicide should be adjusted accordingly, the general amount of 0.05 to 0.3%.
Package & Storage:
The product is packaged in 25kg/drum or 200kg/drum or IBC drum ,and then wrapped in pallets to ensure the cargos are not damaged during transportation.
It should be stored in a dry,cool and sealed place,avoid light ,storage period of 12 months.

Transport Mode:
Multiple transportation methods can be selected,Including sea transport, land transport, air transport and rail transport,We can arrange the shipment according to the shipping method required by the customer. Let our customer receive our products as fast as possible.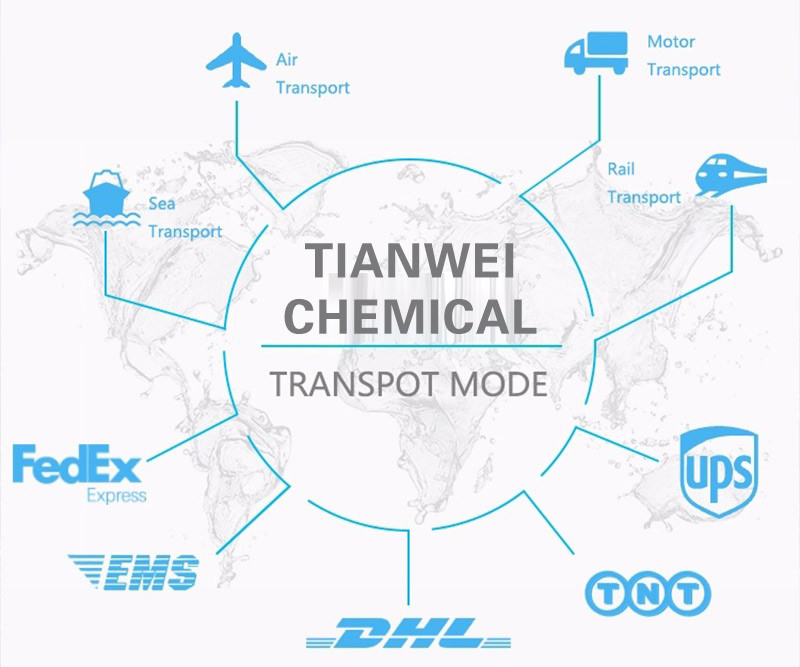 Quality Testing Center:
Dalian Tianwei Chemical Co.,Ltd has strict requirements on product quality, In order to control the quality of our products, the production department performs product quality inspection on each batch of cargo produced with advanced equipment for testing and manufacturing.
Before our new customer places an order , we can send the sample for your testing . We ensure the quality is the same as bulk quality.

Our Service :
1. Our company has a professional, united, aggressive and energetic technical research and development team, a management team with modern management consciousness.
2. We focus on industrial biocide,preservatives,mold inhibitor for more than 20 years, set up long term realatinship with many customers.
3. In order to improve the quality of our products constantly, our company has established a specialized quality control center. Our professional R & D team will provide continuous technical service support to our customer.
4. With the long-term cooperation with customers from all over the world, we have opened up new business scopes. We always adhere to customer-centricity, focus on product quality, respond quickly to customer needs, and provide customers with stable and reliable products.